How We Promote Zope in Japan
Japan Zope User Group
Robert B. Hawkins
[email protected]
                   
Introduction
On December 5th, 2001 the Japan Zope User Group (http://zope.jp) was officially launched. The Japan Zope User Group, or JZUG, is a group of individuals that have come together via the net to promote the use of Zope, share information, resources, and code in Japanese.
JZUG is not sponsored or supported by any corporation at this time, but rather maintained by its volunteer members.
For more information on Zope, please see http://www.zope.org. Zope is a Free Software web application server created by Zope Corporation (http://www.zope.com). In this article, we will not describe Zope per se, but rather the activities of promoting Zope in Japan.
What is JZUG
The Japan Zope User Group is exactly that - a group of individuals that use Zope for personal and/or professional purposes. This includes companies that offer application development based on Zope, users that offer web communities, amongst others. JZUG offers a set of web sites and through two mailing lists.

JZUG is managed by a group of "core members", a group of volunteers that numbers close to 20. These individuals maintain the various services provided by JZUG, including mailing lists, web hosting, web design and the Zope "applications" that are used on the JZUG site. But the real basis of JZUG is the interaction between all members, and the sharing of information, tips and code in public forums including the JZUG sites and mailing lists - all in Japanese. Members are spread all over Japan, from Sapporo, in Hokkaido, to Okinawa.

The goal of JZUG is quite simple: the promotion of the use of Zope in Japan by corporations, organizations and individuals by offering a central repository of information and links on Zope, seminars on the use of Zope, and translations of Zope documentation into the Japanese language.
JZUG Sites
JZUG, in its effort to promote Zope in Japan, uses Zope to provide a Japanese community site that also doubles as a demonstration of what can be done with Zope. JZUG currently offers 3 sites: the main site, a weblog using a Japanized version of Squishdot (http://squishdot.org) , and a Wiki modified to handle Japanese.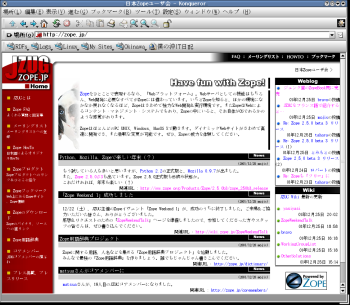 The main site currently offers:
Bookmarks: Links to other sites known to JZUG that are about or use Zope
FAQ: Japanese Frequently Asked Questions.
How-To: Japanese How Tos: JZUG originals and translations
Zope Dictionary: A glossary of Zope-related terms
The weblog provides a forum for sharing and relating news tidbits, and other information. JZUG also offers two mailing lists: zope-users for general discussion and questions about Zope, especially for new users, and zope-devel for more experienced Zope developers to talk about the development of Zope Products and customizations to the Zope framework itself.
The site was developed over about 6 weeks. The site plans further content such as reports from seminars (see below), and columns by members on a variety of Zope topics. Columns are developed by several working groups that have been established to delve more deeply into Zope. For example, a working group on Zope Page Templates will provide examples and short articles on using ZPT. Additional sites are also in the planning phase.
JZUG "Seminars"
One of the key activities of JZUG is the holding of seminars for members and others interested in learning more about Zope. These seminars will range in content from basic introductions to Zope to significantly advanced usage cases.
On December 22nd, the first of these "Zope Weekend I" was held in Tokyo. The seminar had more than 40 attendees, including IT media representatives, with 5 separate presentations, and a free discussion over beer and pizza. Including self introductions and the free discussion, the seminar lasted 5 hours!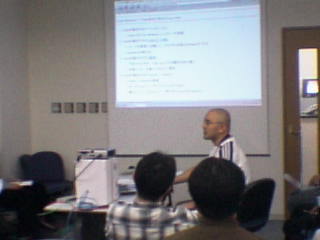 The range of topics at Zope Weekend I included:
Introduction to Zope
Session Management in Zope 2.5.0
An Introduction to Zope Page Templates
Using Hotfixes - An introduction
Using Zope's API with Python Scripts
Further Zope Weekends will be planned over the coming months, and will not be limited to Tokyo, but hopefully hosted all over Japan, in cooperation with local Zope User Groups such as the Sapporo Zope User Group.
Translation
One of the major activities of the JZUG is the translation of existing documentation into Japanese. One of the biggest barriers to increased use of Zope in Japan is the lack of localized documentation. There is a working group dedicated to doing just that.
One of the first things is translation of the Zope Book, an authoritative guide to Zope by by Amos Latteier and Michel Pelletier of Zope Corporation (the original can be found here: http://www.zope.org/Members/michel/ZB/) . The translation is hosted on a ZWiki site hosted by a member of JZUG. Substantial portions of the translation are already complete and can be seen at http://z2.dns.cx/ZopeBook_JP/FrontPage
Translation is not limited to the Zope book, but also covers How Tos, FAQs and other information. While I often see complaints about the lack of documentation for Zope, looking at translating what is available seems overwhelming!
Looking Forward
JZUG has really just begun. The effort to promote Zope in Japan is an extremely challenging goal. Zope is not well known or recognized in Japan today. However, with the kind of dedication and work that I saw leading up to the launch of JZUG, its sites, and Zope Weekend, I am fully confident that we will be successful in increasing Zope exposure, use, and understanding in Japan.
Any one interested in helping out, point your browser at http://zope.jp